PRESS RELEASE For Immediate Release March 2, 2022
Reps. Espaillat, Wilson, Raskin Lead Push to Posthumously Honor Civil Rights Activist Bob Moses with Congressional Gold Medal
WASHINGTON, DC -- Today, Representatives Adriano Espaillat (NY-13), Frederica Wilson (FL-24), and Jamie Raskin (MD-08) introduced legislation to award a posthumous Congressional Gold Medal to Robert 'Bob' Parris Moses to honor his contributions to the American civil rights movement and equal access to education. Since 1772, the Congressional Gold Medal has been the most distinguished recognition bestowed by Congress on individuals or institutions for their outstanding achievements and contributions to our nation. "Bob Moses dedicated his career to improving the quality of life for Black Americans across the United States, and the impacts of his tireless work are still felt throughout our communities by the countless lives he enriched," said Rep. Espaillat. "While Bob shunned the limelight throughout most of his lifetime, his legacy represents the best of a generation of activists whose efforts helped to change the very fabric of American society in ways that are still contested and unfolding today – and we owe him an immeasurable debt of gratitude. He must be remembered as a patriot who gave everything to do the back-breaking labor of an entire generation, and I am proud to lead the call for this much-deserved honor with my colleagues today." "Throughout the entirety of his life, particularly during America's plight of racial and civil injustice, Bob Moses was a champion for the Black community," said Rep. Wilson. "As an activist and educator known for his quiet manner, Moses advocated loudly for the overall advancement and mathematical literacy of Black people. The impact of his efforts are felt far and wide, from his hometown of Harlem, New York to Hollywood, Florida, where he spent the final moments of his remarkable life. Today, I proudly join my colleagues in the privilege of introducing legislation awarding a posthumous Congressional Gold Medal to Bob Moses." "For Bob Moses, democracy was not a set of static institutions but a dynamic process of education and personal and communal growth," said Rep. Raskin. "Through his remarkably patient and courageous acts of mass voter registration, Bob changed the dynamics of power in Mississippi and in America. He showed us that the heart of strong democracy is organizing, and the key to great organizing is listening. Bob was the greatest listener in the history of American democratic change. He listened to the voices of the disenfranchised and out of that listening flowed the Student Nonviolent Coordinating Committee, Freedom Summer and the Mississippi Freedom Democratic Party, three organizing projects that brought to life and to the world stage the irreducible American ideal of one person-one vote, the 'radical equation' that has challenged and transformed every form of political tyranny in American society." "Bob's deep love for his family was mirrored in his love for his people. His life was a giant giving tree. We are forever grateful for his gifts," said the Moses family. Bob Moses dedicated his life's work to advancing equal rights for Black Americans, drawing praise from prominent members of the Civil Rights Movement such as Dr. Martin Luther King, Jr. He began his career as an active member of the fight for voting rights, working to register poor, illiterate Black Mississippians to vote. He worked with the NAACP and served as driving force and a leader as part of the Student Nonviolent Coordinating Committee, serving as Field Secretary, leading the charge for both groups as they made strides towards equality. In 1982, Bob Moses founded The Algebra Project to support K-12 math literacy for children from historically marginalized communities. Since its origination, the organization has served over 40,000 students across America. As an educator and civil rights advocate, Bob Moses believed that the absence of math literacy in urban and rural communities across our nation today is an issue as urgent as the lack of registered Black voters in Mississippi was in 1961.
# # #
SNCC's Unruly Internationalism - an article from the Boston Review
November, 2021
https://bostonreview.net/articles/snccs-unruly-internationalism/
Statement from the SNCC Legacy Project
on the Passing of
ROBERT "BOB" PARRIS MOSES
January 23, 1935 - July 25, 2021
Susan Young Photography 2015
July 26, 2021
The SNCC Legacy Project offers its condolences and love to
Janet Jemmott Moses
, and his children Maisha, Omo, Taba, and Malaika Moses at the passing of
Bob Moses
, who was husband, father and an emotional center for the family.
We also want to offer comfort at the loss felt by Bob's SNCC family, which for the past 60 years has been engaged and worked with each other in the on-going struggle for human and civil rights. The
SNCC Legacy Project
, of which Bob was vice chairman, especially feels this loss.
We honor his vision, tenacity, and fearlessness. His deep belief in people who find themselves in the socio/economic bottom made a fundamental difference for millions of his fellow Americans.
At the heart of these efforts was SNCC's idea that people—ordinary people long denied this power—could take control of their lives. These were the people that Bob brought to the table to fight for a seat at it: maids, sharecroppers, day workers, barbers, beauticians, teachers, preachers and many others from all walks of life.

The Algebra Project
he founded in 1982 is a direct outgrowth of this early work in Mississippi. The work of the Project is aimed at preparing those still kept on the bottom rungs of our society for success in the information economy of the 21
st
century.
Finally, the SNCC Legacy Project is issuing a call on behalf of Bob and other SNCC veterans such as
Julian Bond
,
John Lewis
,
Kwame Ture
(Stokely Carmichael),
Chuck McDew
,
Fannie Lou Hamer
,
Ruby Doris Robinson
,
James Forman
,
Marion Barry
,
Ms. Ella Baker
,
Amzie Moore
,
Unita Blackwell
, and the local people with whom they worked to continue to raise the banner of continuing the struggle for a better world.
#
July 22, 2021
A note from SNCC Legacy Project Board Member Bruce Hartford:
For those who might be interested, I've posted a short video of my
address to the John Lewis Memorial "Good Trouble Vigil for Democracy"
vigil last Saturday in Oakland CA. I spoke about Selma, the long
struggle for voting rights in America, and what it means for us today.
#
July 15, 2021
Gloria Richardson, whose work as a civil rights leader on the Eastern Shore of Maryland in the early 1960s served as a bridge between the nonviolent activism of the Rev. Dr. Martin Luther King Jr. and the more radical, confrontational tactics and agendas of the Black Power movement that followed in the second half of the decade, died on July 15 at her home in Manhattan. She was 99. (From the New York Times). Born in Baltimore , raised in Cambridge, Md., a Howard University graduate, Richardson chaired the Cambridge NonViolent Action Committee, a SNCC affiliate . She negotiated a settlement with Cambridge officials at a meeting in the office of U.S. Attorney General Robert Kennedy.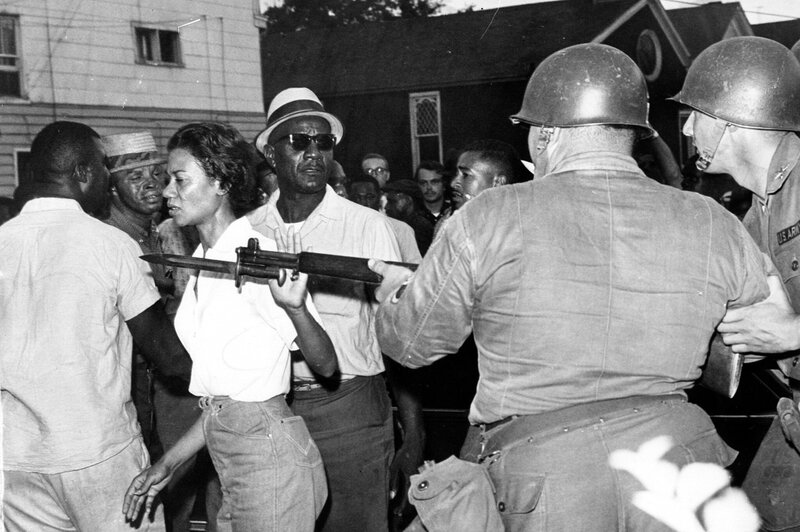 Gloria Richardson, Cambridge, Md. 1963.
#
July 6, 2021
Open Letter from Civil Rights Movement Veterans to Teachers:
We've Seen This Before and We Stand With You

We who fought and struggled to win voting rights for all Americans during the Civil Rights Movement of the 1950s and '60s stand now to fight against the new wave of voting-rights suppression and voter nullification laws that are being promulgated across the land. And we who marched for equality and endured jail for Freedom rise now to fight against this new wave of teacher-intimidation and thought-suppression laws being enacted in Republican-controlled states to distort and deny the violent realities of racism and white-supremacy in American life and history.

We who resisted the laws of segregation by sitting at "White Only" lunch counters, and organized voter registration campaigns among those historically denied the right to vote, stand now in support of those teachers and professors who today defy this new form of McCarthyism by pledging to continue writing, speaking, and teaching about systemic racism, structural inequality, and institutionalized white-supremacy past and present. These teachers continue to teach the truth.
We who were young just the day before yesterday recall our teachers being fired because they dared to support and join the NAACP in defiance of laws enacted by white-rule governments in the South. And we came of age in an era when college professors, community leaders, union organizers and famous entertainers were shamed and pilloried in the press, hauled before the
House Un-American Activities Committee (HUAC)
, and dismissed from their positions because they criticized segregation, or advocated racial equality, or spoke in favor of anti-lynching laws, or the United Nations or the New Deal, or signed a petition against atmospheric tests of
nuclear weapons
.

From our lived experience we know how bigots, bullies, and demagogues use scare-words to stoke fear, hatred, and division for their personal gain, and how politicians use bogeyman-terminology to confuse and distract their constituents, and smear organizations who call upon America to "Live out the true meaning of its creed: We hold these truths to be self-evident that all people are created equal." Yesterday, their targets were the NAACP, SNCC, SCLC, and CORE. Today they are taking aim at organizations such as the 1619 Project, the Zinn Education Project, Black Lives Matter at School, Learning for Justice, Teaching for Change, and also teachers throughout this nation who want their students to better understand the history behind the economic and social disparities so evident in their communities … and the ways every day Americans have long fought to make America live up to its ideals.
But the ideas that these demagogues decry so stridently are not new. Civil rights advocates, civil libertarians – and courageous teachers -- have been discussing these same ideas for generations. We know this because we still hold living memories of the words spoken by
Septima Clark
,
Martin Luther King, Jr.
,
Rosa Parks
,
Ella Baker
,
John Lewis
,
James Forman
,
Fannie Lou Hamer
,
Harriette Moore
,
James Farmer
,
Vincent Harding
,
Howard Zinn
,
Bob Moses
, and so many others. All forthrightly organized against the systemic, structural, and institutional racism that has shaped American history and crippled American lives for generations.
To all the courageous teachers who won't back down from teaching their students the truth, we stand with you. We know you risk much in this struggle – with threats to your jobs, safety, and your right to teach the truth -- just as so many in generations past risked their lives and livelihoods in the long struggle for democracy. But…together we will win, because we must. Future generations depend on our standing strong…together!
For further information:
Contact: The SNCC Legacy Project – Judy Richardson, Board Member
Phone number: 617-584-4651
Contact: The Civil Rights Movement Archive – Bruce Hartford
Phone number: 415-642-7399
##################################
March 23, 2021
Perspective
A civil rights veteran's advice for the next generation: Move beyond the protests
Courtland Cox, 80, was a leader of the Student Nonviolent Coordinating Committee in the 1960s. (Sarah L. Voisin/The Washington Post)
By
Columnist
Washington Post_March 23, 2021 at 7:09 p.m. EDT
As a 19-year-old attending Howard University in 1960, Courtland Cox joined with other young civil rights activists in a death-defying effort to empower disenfranchised Black people throughout the Jim Crow South. The organization they started that year was called the Student Nonviolent Coordinating Committee (SNCC), but there was nothing nonviolent about the system of racial segregation, economic oppression and voter suppression that they wanted to dismantle.
Because of poll taxes, bogus literacy tests and the ever-present threat of violent retribution, only 14 percent of eligible Black people were registered to vote in Alabama and just 5 percent in Mississippi. One parish in Louisiana had not registered a Black voter since 1900. Activists who tried to help register Black people were often attacked and sometimes killed by White people intent on maintaining the status quo.
Today, at age 80, Cox can look over the nation's political landscape and see progress that was virtually unimaginable in his activist days. The country has had a two-term Black president and now has
Kamala D. Harris
, a Black and Asian woman, as vice president.
Raphael G. Warnock
(D) was recently elected as the first Black senator from Georgia. Nearly one-third of the nation's top 100 cities have Black mayors. In 1960, there were none.
But as SNCC veterans prepare for a belated 60th anniversary of the group's founding — to be held at the Omni Shoreham Hotel in D.C. in June — Cox's celebratory mood is tempered by a harsh reality: Voting rights are under assault like no time since the post-Reconstruction era following the Civil War.
"What strikes me about the struggle for power at this point is the use of the big lie — that Trump won the election, but it was stolen from him," said Cox, who is board chair of the SNCC Legacy Project. "So, the question becomes who did the stealing? And they say it occurred in Philadelphia and Detroit and in Wisconsin, Georgia and Arizona. Meaning, basically, that the Black community and people of color stole it."
Ignoring audits, court rulings and electoral college votes to the contrary, Trump loyalists stormed the Capitol in January to "take back" their country. And Republican-controlled legislatures in 26 states have introduced more than a hundred pieces of legislation aimed at restricting the vote.
"Blacks, women, Hispanics, Asians, LBGTQs now have the ability to engage the political system," Cox said, "and there are people who will not stand for it."
Such blatant attempts by Republicans to "win by foul if they can't win fair" should prompt Black people to ramp up their political organizing efforts, begin forming new coalitions and strengthening old ones to prevent the clock of progress from being turned back, he said.
Just as civil rights activists such as Ella Baker, Bayard Rustin and Sterling Brown served as mentors to the young SNCC members, today's SNCC veterans also offer guidance and advice to younger members of the Black Lives Matter movement.
Cox, who is from New York and now lives in the District, was born in 1941, the same year as Emmett Till. And it was the murder of 14-year-old Till in Money, Miss., in 1955, that spurred Cox into civil rights activism.
For the past seven years or so, Cox has met with those from what he calls the Trayvon Martin generation.
"And I'm saying to them, based on experience, that being in the streets protesting has a limited shelf life," Cox said. "They are assuming that people in power will hear them and that they are speaking truth to power. I tell them that is a waste of time because the people in power know better than you what they are doing to you and they don't really care."
His recommendation? Move beyond the streets, beyond electing mayors of a city to electing governors of states. Build coalitions that hold power in state legislatures. Be the ones who control the state budgets, the National Guard, who determine the quality and price of an education.
"While I want to celebrate Martin Luther King and while I want to celebrate everything we accomplished with SNCC, at the end of the day, there is a different objective reality to deal with," Cox said. "In my day, we were in protest. Today's young people are in power and I want to see them use it. We don't need to be in the streets asking people to be for us. We need to be for ourselves."
Cox recalled that back in 2016, his talks with young people about the importance of voting was sometimes met with scorn. "They were like, 'the vote is a waste of time,' " Cox said. "But when I talked to them again in 2018 and 2020, they understood. They wanted to vote Trump out because their lives depended on it. And what they need to understand now is that, even though Trump is out of office, their lives still depend on the vote because, at the end of the day, politics is also about economic interests."
And that, he says, is why the fight over voting rights endures and grows even more fierce.
"This is not just about Trumpism and one lost election," Cox said. "It's about the kind of political and economic system we are going to have and who will set the agenda for America."
He noted, for example, that in the system we have now, it took only a few days and no legislation for the Federal Reserve to use $3 trillion to stabilize capital markets during the covid-19 pandemic. In effect, helping the rich get richer. On the other hand, it took weeks of Congressional "reconciliation" talks and a tight vote to get
$1.9 trillion
for the "American Rescue Plan," which was aimed at helping the poor and working people not lose their homes and jobs and keep their children from starving.
Some might argue that the nation has its priorities wrong.
"Look at what happened in Texas," he said. "They wanted to keep energy low and profits high. Always putting profits over people. And when the energy grid breaks down, the 'haves' head for warmer climate like Cancún and leave the 'have-nots' to freeze."
At the upcoming SNCC commemoration — last year's was canceled because of the pandemic — Cox and other veterans will certainly share memories of the struggle. But they will know as well as anyone that what took years and lives to accomplish can still be lost in a heartbeat. And even after the right to vote has been won and secured, effort must be put into learning to use it wisely.
Cox recalled what the elders used to tell the young SNCC activists, something that is just as valid today: "They'd say, 'I may not be there to enjoy what we are fighting for, but the struggle must continue.' "
Courtland Milloy is a local columnist for The Washington Post, where he has worked since 1975. He has covered crime and politics in the District and demographic changes in Prince George's County, Md. He has also written for The Post's Style and Foreign sections.
Monday March 15, 2021
Enjoy this excellent student video about SNCC created by an 8th grader in New Haven, CT.
Monday March 8, 2021
Today we sent flowers to Bob Moses, and this is what his family wrote back:
Friends - You all brought a smile to his face and joy to his heart. ❤️❤️❤️please share this picture with SNCC Legacy Project. He's begun to feel better - all of this outpouring of love have made a difference, and his will to be here is very strong. He's walking again so that's great news. Lots of love to you and to all. The timing is perfect. Today was the best day for him to get these flowers.
February 27, 2021
Friends of SNCC Freedom Singer Charles Neblett gathered on zoom to celebate Charles' 80th birthday! Here is a screen shot of the party.
Happy Birthday Chuck!
August 31, 2020
He was born John Robert Lewis in a wooden house that had no electricity in Troy, Alabama. He had ten siblings, including a brother who was born deaf. His mother called him Robert. As a child he played and ran through the 120 acres his father owned with twenty siblings and cousins. He loved the life of his childhood. Something made him different.
At fifteen he wrote a letter to Dr. King saying he wanted to integrate the high school in Troy. Dr. King called him "the boy from Troy." Washing dishes at American Baptist Seminary in Nashville, he studied nonviolence, the way of Gandhi and Thoreau with Reverend James Lawson. By 1963 he had been arrested forty times.
When, in the summer of 1962, I first saw him sitting in the corner of a small church in Cairo, Illinois, I knew who he was. John Lewis was a Freedom Rider. I gazed at him with wonder on that morning in southern Illinois. John was twenty-two years old. That summer he had asked the Student Nonviolent Coordinating Committee (SNCC) for ten dollars so he could work in Virginia, but for some reason Jim Forman had sent him to Cairo. I had never been in the South and I probably had never heard anyone from Alabama speak. Then, in that small church, he got up to speak. Though there might have been as few as fifteen people there, his voice exploded across the room with passion. I was transfixed. I would not leave the movement for another two years and in another sense I would never leave John.
In 1963 I moved to Atlanta to work full time for SNCC. John had a small apartment in West Atlanta and asked me to move in with him. Our third roommate was Sam Shirah, a white student organizer, who was also from Troy. Growing up in Troy, John seldom saw a white person. His mother wouldn't let him buy ice cream at the drugstore because they made the "colored" children sit outside on a bench. Last year my wife, Nancy, and I ate lunch with John in that drugstore. Everyone wanted to shake his hand. Now Troy celebrates a "John Lewis Day." Both Sam's great-grandfathers fought for the Confederacy. John's were slaves.
---
---
---
John had a quiet, naive side. It was easy to underestimate him, and throughout his life many people did. That is because in many ways he never changed from what he was—a farm boy from Alabama. In 1997 I had a show in Atlanta and John came to visit. I was very excited that he was coming to the opening. I stepped outside the building to greet him. He was sitting in the driver's seat of a car. "Notice something?" said John. "No," I answered, standing by the window. "I'm driving," he said. John was fifty-seven and had just learned to drive.
In late January, when I learned of John's diagnosis, I flew to Washington to stay with him in his home. By then he was mortally ill, and we knew we might never see each other again. He lay in bed with a large picture of his mother by his bedside. I stayed upstairs in a guest room. Fifty-seven years earlier we had been roommates. We were roommates again. Each morning I made tea in the basement, then carried it upstairs to sit by his side.
A few weeks ago he said on the phone, "I am going back to Atlanta." John said they had stopped the treatment. It was no longer doing any good. John wanted to be home with the things he had collected with Lillian. In the very corner of his bed where he slept and would die were a group of SNCC posters and photographs. Every one of them was made by me. In the open attached garage were John's cats and kittens. He fed them every day, just as he had fed chickens as a boy. When he returned to Atlanta, I asked him about the cats and he said, "I don't think they recognized me." His voice had changed. It was raspy. He sounded short. It wasn't much of a conversation.
---
---
---
I had been filming John for years and I wanted so badly for him to see the finished film, the film I called SNCC. He might have watched ten minutes before he fell asleep. Then I called to say goodbye. He said "yes" a few times, he could hardly speak. I told him I was sure that I would see him again. That wasn't exactly true, but I know John believed there was something after death. I had asked him how he felt about Julian Bond and Jim Forman and all the SNCC people who had died. "How does that make us feel, John?" I asked. "How does that make you feel?" and he said, "Do you remember Stanley Wise?" Sure, I said, we were with him in Cambridge. "Sometimes I feel I can pick up the phone and call him. But he is not there." Now it's John who is not there.
John Brown was held as a terrorist. When he was captured at Harper's Ferry, all his abolitionist supporters fled or went into hiding. Thoreau alone saw John Brown as a saint. John Robert Lewis was an American saint. He took the blows for freedom upon his own body, and like Kafka's Hunger Artist, became the physical embodiment of the movement. He believed so profoundly in the American ideals of equality that he repeatedly put himself in harm's way to achieve these goals for everyone. As SNCC chairman he was the chosen symbol of the black uprising. SNCC was the point of the spear of the movement. Early in the Nashville sit-ins they locked the doors of a Woolworth, and when clouds appeared in the closed-up room John said, "They're going to gas us." At Rock Hill, South Carolina, a mob hit him in the head with a Coca-Cola crate. In Montgomery they beat him bloody as he tried to protect a white Freedom Rider whose teeth had been knocked out. His courage came from centuries of justice denied.
That last day I sat on his bed to film him, then rearranged his quilts as I got up to leave. Now he has left us. His soul will be with us forever.
Go to rest with the angels John, we will miss you.
August 29, 2020
We thought you might appreciate seeing this 7-minute video produced by NPR that features Courtland Cox, Sandy Hassan, Peter Bailey and others you may know:
https://youtu.be/zVFUh4T1HFo
SNCC LEGACY PROJECT STATEMENT ON THE
ACTIONS TAKEN BY THE NBA PLAYERS
August 27, 2020
The veterans of the
Student Nonviolent Coordinating Committee (SNCC)
want to express our strong support and deep appreciation to the players of the Milwaukee Bucks for their decision to boycott the N.B.A playoff game scheduled for August 26. This is a stance against the ongoing violence being visited upon the Black community. We must also note that their taking the lead in responding to this violence has had an immediate impact that drives the movement forward. On the same day, other athletes from the N.B.A., W.N.B.A., Major League Baseball, tennis, and Major League Soccer took a similar bold stand against systemic racism and police brutality, as did some Black sports announcers, who condemned the violence on-air or protested by staying off-air entirely.
The Black community has historically experienced police and vigilante shootings and killings. Due to new technologies, this police and vigilante behavior has become more visible. But even as these killings have become more public, nothing has really changed. Despite greater visibility today, the Black community continues to experience both justice delayed and justice denied. The police or vigilantes are either never charged, never taken to court, or acquitted in a court trial.
We feel compelled to point out here that in Kenosha, Wis., where Jacob Blake was shot seven times in the back by police for no apparent reason, a white teenager strolled easily and comfortably among police while raising an automatic rifle in the air. This teenager had already shot and killed two people. The response of the city's police chief was that if protesters had not been in the street, in violation of the curfew that had been imposed, they would not have gotten shot.
For hundreds of years fear has been used as a political tool. Certainly in the 2020 Presidential election we see how fear has been injected into political life with dire warnings of the danger to peaceful suburbs by out-of-control mobs. Past political campaigns offer other potent examples: George H.W. Bush stoking racial flames with the Willie Horton case; Ronald Reagan pointedly announcing his candidacy at a county fair popular with the Ku Klux Klan in Philadelphia, Miss., where three civil rights workers were killed by a white mob after being handed to them by law enforcement officials in 1964; and the political shift by the Southern Democratic Party, once dominated by segregationists and white supremacists, to a Republican Party now dominated by those same forces.
We want to stress again that while the police and vigilante killings take place in different cities, committed by different actors, their patterns and practice evolve from the same rationale. In the United States, Black people, whether armed or unarmed, are viewed as a dangerous threat by some in the white community. However, Black lives do matter. That is unquestionable. As LA Clipper's Coach Doc Rivers said: "All you hear is Donald Trump and all of them talk about fear. We're the ones getting killed. We're the ones getting shot."
In our 60 years of struggle, we have learned that the Black community, through collective and determined actions, has been able to mitigate elements of white supremacy. Working with allies --through campaigns, such as the
sit-ins
,
Freedom Rides
,
voter registration
drives in the Southern United States, litigation, and the determination of local Black
Mississippi leaders
, including sharecroppers, to impact the Democratic Party -- the Black community was able to fight against white supremacy.
If we are to live as full citizens in America, the Black community and its allies must now redouble its collective and determined actions. Like those committed athletes and Black Lives demonstrators, we must organize against the advocates of white supremacy. As
John Lewis
, former chair of the Student Nonviolent Coordinating Committee (SNCC) demanded of us: "if you see something, say something."
Over the next approximately two months we have a chance and obligation to make a profound difference by defeating at the ballot box every candidate for sheriff, state legislator, county executive, mayor, congressman, senator, and President who supports and espouses white supremacy. We have to VOTE…because our lives depend on it.
All Americans of good will must join with organizations like the Advancement Project, Fair Fight and the New Georgia Project to fight voter suppression in the 2020 elections. Join with others like the NAACP/GSSA, Woke Vote,
Voces de la Frontera, Vote Latino, and MANA to get the Black and Brown vote out for the Presidential election, both up and down ballot.
It is only through our collective and determined actions that we can protect ourselves today and protect future generations yet unborn.
August 27, 2020
August 9, 2020
Matt Herron, SNCC Photographer, dies in glider plane crash.
Matthew J. Herron died August 7, 2020 when his glider plane crashed near San Rafael, California. He was 89 years old. Born in Rochester, NY, Matt studied photography in Rochester as a private student of Minor White, and then worked as a writer and photographer for the American Friends Service Committee in Philadelphia.
A conscientious objector during the Korean War, Herron was organizing peace demonstrations and beginning to shoot assignments for Life and Look at the time the first sit-ins were occurring in Tennessee and North Carolina. He was arrested for attempting to integrate an amusement park in Maryland in the summer of 1963 and shortly afterward he and his wife, Jeannine, moved to Jackson, Mississippi with their two small children.
For the next two years Herron pursued three styles of photography: classical photojournalism for the major picture and newsmagazines, documentary photography as practiced by his mentor, Dorothea Lange, and photography as propaganda in the service of the Student Nonviolent Coordinating Committee (SNCC) and other civil rights organizations. Often he was able to use news assignments as cover for a more documentary style of work. Many of the iconic photos used to document SNCC's story were taken by Matt.
In the summer of 1964, Herron organized a team of five photographers, The Southern Documentary Project, in an attempt to record the rapid social change taking place in Mississippi and other parts of the South as civil rights organizations brought northern college students to work in voter registration and education. George Ballis and Danny Lyon were among the Southern Documentary photographers and Dorothea Lange served as informal adviser to the project.
In 2012 he curated a 158-print photography exhibition, This Light of Ours: Activist Photographers of the Civil Rights Movement, featuring nine photographers who joined the civil rights movement and shot it from the inside. This Light opened in Salt Lake City and is now touring the US. The University Press of Mississippi has published a companion volume to the show. In 2014 Herron published Mississippi Eyes, the story of the Southern Documentary Project. The Smithsonian Institution Traveling Exhibition Service has recently agreed to host a US tour of his 50 print exhibition on the Selma March and Voting Rights.
Herron's photographs are in the permanent collections of the National Museum of African American History and Culture, the Birmingham Civil Rights Institute, the Memphis National Civil Rights Museum, the Smithsonian Institution, the High Museum of Art, the Schomburg Center for Research in Black Culture and the George Eastman House. He is the subject of several profiles, including Witness in Our Time: Working Lives of Documentary Photographers, and a cover story in the Princeton Alumni Weekly, June 2014. He is survived by his wife Jeannine , two children and five grandchildren.
Matt (front) with Julian Bond (back).
Claiming John Lewis
SNCC Legacy Project statement on the passing of John Lewis
July 17, 2020
"Do not get lost in a sea of despair. Be hopeful, be optimistic. Our struggle is not the struggle of a day, a week, a month, or a year, it is the struggle of a lifetime. Never, ever be afraid to make some noise and get in good trouble, necessary trouble."
~ John Lewis, Student Nonviolent Coordinating Committee (SNCC) Field Secretary 1960 to 1963
and Chairman 1963 to 1966.
The best way to remember John Lewis is by looking around us today. For he is present in the young voices and bodies on the front lines of what has been a century's-long struggle for justice and human rights. His life story reflects courage, commitment, and an unshakable belief that the best of humankind's potential is possible. But he always made clear, you have to fight for it. Speaking to young people he often challenged them: "If you see something that's not right, not fair, not just, do something about it. Say something. Do something. Have the courage. Have the backbone to get in the way."
He was a son of the South, and we could easily tick off a list of his heroics in the face of the awful terrorism used to protect white supremacy in that region. Sometimes we in SNCC were awed by his bravery, as we were by the bravery of many of those around us from Fannie Lou Hamer to Amzie Moore to Ella Baker and countless others. For none of us in the Movement stood alone. We were all part of a larger community of those who had long struggled for justice, some before we were born. Beyond that, John was also a son of America, well aware of its flaws, particularly with regard to racial inequities. He was always challenging the shortcomings that prevented this country from achieving its promise.
He believed that Black lives mattered and struggled to make this so.
It is this that links the life of John Lewis to today's continuing struggle, led by the movement for Black lives. Do not think then, of John Lewis the icon, or John Lewis the congressperson, or even John Lewis "the legend," but rather, of the John Lewis who almost from childhood was always willing to "get in the way" of wrong.
His parents were sharecroppers and he grew up on a small farm in rural Alabama; so in following his life, we are forced to consider the potential power of ordinary people who decide to stand up, speak for themselves, and fight for what is right. Like those who worked with us in the 1960s, these are the people who compose today's movement and are in part enabled by the earlier work of John Lewis and others. We know that John saw an important part of himself in the movement that is now unfolding, even when he disagreed with them as he sometimes did; just as Martin Luther King saw part of himself in SNCC and sometimes disagreed with us, too. John joined the board of King's organization, the Southern Christian Leadership Conference (SCLC) in 1962. In this we find another lesson of John's life: While organized effort is necessary, organizations come, go, transform themselves, and leave legacies. What really counts is a life-long commitment to work with others to build a more just world.
Clearer now than ever, the great lesson of John's life is that we need to take on the unfinished business of change. There is urgency to this and we could sometimes hear it in John's voice. There is a reason thousands of mostly young people have been in the streets for months. There is a reason to listen to them; John understood that and welcomed it. Let that not be lost.
Advocacy groups respond to recent court ruling, raise awareness of need for equity in education
Reporter Vernon Smith Jr
Southern Illinois University July 13, 2020
Leading social justice advocacy groups came together in partnership with the College of Arts and Sciences to discuss how quality education should be upheld as a Constitutional right for all. The conversation was in response to a recent federal court ruling.
In a virtual town hall meeting hosted by The Algebra Project, the SNCC Legacy Project, Teaching for Change and the XQ Institute, members of these organizations called attention to the inequalities that persist in the U.S. education system. The meeting was held at 1 p.m. on Thursday, July 9 via Zoom.
Much of the meeting centered around a court ruling by the United States Court of Appeals for the Sixth Circuit, which recognized the Constitutional right of foundational literacy under the Fourteenth Amendment. This decision was the result of a lawsuit brought by a group of Detroit public school students, who claimed they were deprived of the resources needed to achieve basic literacy. The ruling was passed on April 23.
The town hall meeting was led by B.J. Walker, a board member of The Algebra Project. SIUE's College of Arts and Sciences co-sponsored the event, and CAS Dean Kevin Leonard shared his thoughts on its importance.
"I think it's a really important issue. Education is a really important issue in our world today, in particular issues of educational quality and educational equality," Leonard said.
Leonard said many people take for granted the quality education they receive, but students in some districts do not have the same access to resources.
"There has been a real struggle to make sure people are graduating from public high schools with confidence, with the ability to read, with the ability to do mathematical functions … A lot of people around the country take it for granted, but it's not necessarily the case that in urban school districts students are really being provided with the kind of education that leaves them with the fundamental skills that they need to be citizens in the United States," Leonard said.
Jamarria Hall, a recent graduate from Detroit Public Schools and one of the plaintiffs in the lawsuit, said this is a conversation that is long overdue and needs attention now.
"This is something that should have been talked about, we all know that," Hall said. "A lot of us in 2020 don't know we don't have a Constitutional right to an education, which I was one of those people before the lawsuit … I'm glad we are talking about it in 2020 because if we don't talk about it now it will be 2040."
The majority of students in Detroit Public Schools, and many other urban school districts, are minorities. Hall said disparities in the quality of education contribute to other issues, such as systemic racism and inequality.
"We're still enslaved, not just through the school system but in life, through our community, we see it all the time. The hardest thing and the hardest fight is to fight a system that's been set up," Hall said.
During the town hall, Mark Rosenbaum, one of the attorneys who represented the students in the lawsuit, said the poor conditions in the Detroit schools, including unqualified teachers and improper textbooks, were unacceptable.
"A basic education is a right, and that means no government can continue to deny students like Jamarria their opportunity to thrive and to better their circumstances," Rosenbaum said.
Russlynn Ali, the founder and CEO of the XQ Institute, was another panelist at the meeting. Although Ali said the means exist to create educational equity, she questioned whether the will was there to initiate changes.
"This Sixth Circuit decision lays out a roadmap on what needs to be done to ensure equity access," Ali said. "It is up to state legislators, it is up to the federal government to do what's right. We need statutes and policies that codifies these decisions and ensures that we follow what the data say. We actually have the know-how, the research and science to tell us how to close the achievement and opportunity gap. The real question remains, do we have the civic and political will?"
To watch the meeting, titled "Town Hall on Quality Education as a Constitutional Right," visit Teaching for Change's YouTube channel. For more information about this issue, visit the Quality Education as a Constitutional Right website.
June 17, 2020
George Floyd's killing stirs old pain, anger for a 1960s activist
By Joyce Ladner
Sociologist, SNCC Veteran
June 17, 2020 at 8:45 a.m. EDT
The killing of George Floyd took me back to my Mississippi childhood, where black men were lynched by vigilantes or murdered by the police with impunity. Minneapolis police officer Derek Chauvin's knee on George Floyd's neck was reminiscent of how the local sheriff and his deputies patrolled our all-black community — as though they had their knees on our necks.
Sixty years ago, I participated in the civil rights movement to bring about the same kind of changes being sought by Black Lives Matter activists today.
I am angry, because it seems like little has changed.
I was baptized in the Old South's rigid system of racial segregation, where the do's and don'ts of racial separation were enforced with heavy doses of violence.
Each time I hear on the news that a black boy or man has been killed by law enforcement officers or armed white men who take it upon themselves to police their communities, like the ones who killed Ahmaud Arbery in Brunswick, Ga., I remember, with pain and anxiety, the racial murders of my youth.
I was almost 12 years old when 14-year-old Emmett Till was murdered by two white men in Money, a small town in the Mississippi Delta, and his body thrown in the nearby Tallahatchie River. Emmett's crime was allegedly making a pass at the wife of one of the men at a local grocery store. His killing brought absolute terror to my young life because I felt that any of us kids could be lynched. My youth and optimism caused me to believe that his murderers would be punished. It was a painful letdown when the jury deliberated for an hour and found them not guilty.
Three years ago, Carolyn Bryant, the woman whose accusation led to Emmett's murder, admitted she lied. I was outraged because she waited 53 years before acknowledging that she caused a boy to endure the most violent murder I had ever heard of. Yet she continued to live her life without accountability, like so many other Southern white women who made similar accusations that led to the deaths of falsely accused black men.
I was reminded of Carolyn Bryant when Amy Cooper recently called the police in New York's Central Park and said a black man who was birdwatching was threatening her after she argued with him when he asked her to put her dog on a leash as required by law.
I have a visceral reaction each time a white person calls the police on a black man, woman or child whom they accuse of threatening them by their mere presence. It angers me that black people must go through life making white people feel comfortable, when it is we who have been terrorized by institutional racism for centuries. Yet our fears are ignored or given short shrift.
Emmett Till's death became the catalyst for my generation to join the civil rights movement, much like the deaths of Trayvon Martin, Michael Brown, Eric Garner, Tamir Rice and Sandra Bland galvanized young people to support the Black Lives Matter movement.
Like other Southern black college students of my generation, I joined the Student Nonviolent Coordinating Committee (SNCC) along with my sister Dorie Ladner. The organization had been founded in 1960 by John Lewis, now a U.S. congressman representing Georgia, and James Clyburn, now the House Majority Whip, from South Carolina. Other founders included activists Diane Nash and Ruby Doris Smith-Robinson, Julian Bond, who would later become head of the NAACP, and countless others whose sacrifices are legendary.
In 1961, when I was a student at Jackson State College, we boycotted classes and peacefully marched to the courthouse in Jackson, Miss., to support a group of students from Tougaloo College who had been arrested for holding a sit-in at a white public library. We were met with a roadblock, where police attacked us with tear gas and chased us with a dog. I was reminded of that experience recently when federal police used tear gas to disperse peaceful protesters in Lafayette Square in front of the White House.
Students led protests across the South, including sit-ins at lunch counters and freedom rides on interstate buses, leading to the passage of the Civil Rights Act of 1964 that ended segregation in public places and banned employment discrimination. A year later, our efforts helped secure the passage of the Voting Rights Act of 1965.
More than 55 years later, public schools remain largely segregated and black workers earn 73 to 74 cents on the dollar, 62 to 64 cents for black women, compared to what white workers make, and the financial gap between black and white people is as wide today as it was in 1968. The coronavirus pandemic has hit black workers, who are overrepresented in low-wage service jobs, harder than white workers. And it has had an even more frightening impact on African Americans: Although black people comprise 12.5 percent of the population, they account for 22.4 percent of covid-19 deaths.
And as a result of the 2013 Supreme Court ruling, black people are again fighting for the right to vote against new restrictive laws imposed by Republican officials around the country.
I am angry when I hear members of an armed militia at the Michigan State Capitol invoke the name of Rosa Parks as a justification for their protests against the statewide stay-at-home order to slow the spread of the coronavirus. And I am angry when I read the blowback on Twitter against Martin Luther King III, who quoted his father as saying that "a riot is the language of the unheard." They told him that he did not understand the meaning of his own father's words because in their view, Martin Luther King Jr. was nonviolent and always turned the other cheek. They conveniently ignored the fact that Dr. King spoke out often about the right to protest and to go to jail for what he called just causes. As King's daughter Bernice King wrote on Twitter, "Don't act like everyone loved my father. He was assassinated. Many who quote him now and evoke him to deter justice today would likely hate, and may already hate, the authentic King."
The appropriation of the civil rights movement's symbols and its leaders' words is upsetting because those who oppose the protests against injustice want to redefine what we meant then and what we mean now about the pain and suffering of generations of African Americans.
When I see the young people protesting the killing of George Floyd across the country, I am angry that the racial terror we fought against 60 years ago is with us still. I am reminded of the murders of my civil rights mentors, Medgar Evers and Vernon Dahmer, and of the three civil rights workers — Andrew Goodman, James Chaney and Michael Schwerner. I knew James and Michael from the Mississippi civil rights movement. Chaney was a black Mississippian and Schwerner and Goodman were from New York and were Jewish.
I applaud the diversity of the protesters against George Floyd's killing, because for too long the burden of racism has been foisted on the shoulders of black people, with little responsibility assumed by whites. White people need to accept responsibility personally and collectively, and although their support is appreciated, they must redouble their efforts to enact laws and institutional changes.
My anger is earned and justified. A certain amount of righteous anger and indignation has been and continues to be the engine behind black protests and progress.
April 8, 2020
AN INTERGENERATIONAL CONVERSATION ABOUT A MULTIGENERATIONAL STRUGGLE
The SNCC Legacy Project is partnering with The Highlander Center to host a virtual panel discussion entitled, "The Freedom Struggle Then and Now." As you know, the COVID-19 (coronavirus) has necessitated the postponement of the SNCC 60th Anniversary Convening. We are working to reschedule the Convening for June 2021. As part of the organizing for the rescheduled SNCC 60th Anniversary Convening, the SNCC Legacy Project will be partnering with organizations representing today's activists to host a series of virtual meetings that will provide information about the ongoing struggle.
To register for the Thursday, April 16, 2020 Zoom virtual meeting from 7-8pm EDT, click here.
Photo credit: Danny Lyon
January 24, 2020
Statement of Courtland Cox at the funeral of Eric Jones, Washington, DC
TO JOSEPHINE, ERIC'S BELOVED WIFE, HIS SONS PAUL AND ERIC, JR., AND DAUGHTER, LISA AND HIS GRANDCHILDREN.
ERIC'S SNCC FAMILY OFFERS ITS DEEPEST SYMPATHY. ERIC'S DEDICATION TO BOTH HIS FAMILIES AND TO HIS COMMUNITY IS SHARPLY ETCHED IN OUR THOUGHTS. TO SAY HE WILL BE GREATLY MISSED IS TO STATE THE OBVIOUS.
ERIC PAUL JONES WAS BORN ON OCTOBER 3, 1943 INTO AN AMERICA, TO QUOTE A RULING OF THE U.S. SUPREME COURT, WHERE "A BLACK MAN OR WOMAN HAD NO RIGHTS THAT A WHITE MAN NEED RESPECT." AS WE SIT HERE TODAY, BECAUSE OF ERIC'S COURAGE, THE DETERMINATION OF THE 1960S MOVEMENT VETERANS AND THE SUPPORT OF THE BLACK COMMUNITY, ERIC'S CHILDREN, AS WELL AS, ALL CHILDREN IN THE BLACK COMMUNITY WILL NOT BE ARRESTED FOR USING THE WRONG BATHROOM; SITTING DOWN FOR A MEAL IN A RESTAURANT; SITTING IN THE FRONT SECTION OF A BUS; TRYING TO ATTEND AN ALL-WHITE COLLEGE OR UNIVERSITY; OR TRYING TO REGISTER TO VOTE.
THE SACRIFICES THAT ERIC AND HIS BAND OF BROTHERS AND SISTERS MADE, ALLOWS ALL OF OUR CHILDREN AND GRAND-CHILDREN TO DREAM BEYOND THE NARROW CONFINES OF WHAT WAS PRESCRIBED FOR HIM AT HIS BIRTH IN 1943.
ERIC WAS A MEMBER OF THE NON-VIOLENT ACTION GROUP, AFFECTIONATELY CALLED NAG. NAG WAS A COLLEGE CAMPUS CHAPTER OF THE STUDENT NON-VIOLENT COORDINATING COMMITTEE (SNCC) THAT WAS COMPOSED OF HOWARD UNIVERSITY, AMERICAN UNIVERSITY, AND A FEW HIGH SCHOOL STUDENTS.
IN THE 1960'S, HE CHALLENGED THE SYSTEM OF SEGREGATION AND DISCRIMINATION IN THE DISTRICT OF COLUMBIA THAT DID NOT ALLOW BLACK PEOPLE TO WORK AS BUS DRIVERS, DID NOT ALLOW BLACK POLICEMEN TO RIDE IN POLICE CARS, AND DID NOT ALLOW BLACK PEOPLE TO TRY ON CLOTHES IN THE DOWNTOWN DEPARTMENT STORES. BLACK MEN AND WOMEN FACED SEGREGATION IN HOUSING AND LIVED IN A CITY WHERE THE SOUTHERN SEGREGATIONIST CONGRESSMEN HELD POLITICAL POWER.
ERIC WAS BOTH A FIERCE WARRIOR AND A GOOD FRIEND. HE HAD A 3RD FLOOR WALK-UP APARTMENT ON FLORIDA AVE, BETWEEN 18TH AND 19TH STREETS NW, AND ERIC ALWAYS WELCOMED ME TO STAY THERE ON MY TRIPS IN AND OUT OF WASHINGTON. ONCE WHILE CRASHING AT HIS APARTMENT, I WAS READING A NOVEL WHERE THE HERO OF THE STORY WAS NAMED ERIC "HEAVEN SENT" JONES. FROM THEN ON, I STARTED REFERRING TO ERIC AS "HEAVEN SENT" AND HE TOOK THE NICKNAME IN GOOD STRIDE. I WAS ALWAYS GRATEFUL FOR HAVING A PLACE TO STAY, AND ERIC'S GENEROSITY WAS TRULY HEAVEN SENT.
IN MY MIND'S EYE, I ALWAYS SAW ERIC AND JOSEPHINE TOGETHER. ERIC LOVED AND COULD TELL A GOOD STORY AND ALWAYS APPRECIATED A GOOD JOKE. HIS RESPONSE WAS ALWAYS HEARTY LAUGHTER WHILE JOSEPHINE WOULD HAVE A GENTLE AND WARM SMILE. I GUESS THE REASON I ALWAYS THOUGHT OF THEM TOGETHER IS THAT THEY'VE BEEN MARRIED FOR 51 YEARS.
IN THE LATE 1970S AND EARLY 1980S, SNCC VETERANS BECAME THE POLITICAL LEADERSHIP OF WASHINGTON. ERIC WAS ON THE STAFF OF JOHN WILSON, THE CHAIRMAN OF THE CITY COUNCIL. MARION BARRY BECAME MAYOR. SEVERAL SNCC VETERANS, INCLUDING MYSELF, BECAME PART OF THE EXECUTIVE BRANCH OF THE DISTRICT GOVERNMENT.
WITH SNCC VETERANS IN THE LEADERSHIP OF BOTH THE LEGISLATIVE AND EXECUTIVE BRANCHES OF GOVERNMENT, MANY THINGS WERE ACCOMPLISHED TO HELP THE CITIZENS OF THE DISTRICT OF COLUMBIA. THE SUMMER YOUTH PROGRAM WAS FOUNDED, MINORITY BUSINESS PROGRAM WAS ESTABLISHED, OPPORTUNITIES WERE OPENED FOR YOUNG PROFESSIONALS IN THE MAJOR WHITE LAW AND ACCOUNTING FIRMS IN WASHINGTON, DC, SENIOR CITIZENS PROGRAMS WERE GREATLY ENHANCED, AND THE DISTRICT GOVERNMENT BECAME A MUCH MORE PROFESSIONAL OPERATION.
WHEN ASKED ABOUT HIS HIGHEST ACHIEVEMENT IN LIFE, MARTIN LUTHER KING, JR. SAID, "TELL THEM I TRIED TO HELP SOMEBODY ALONG THE WAY,". AS I THINK ABOUT ERIC, WHAT COMES TO MIND IS THAT, LIKE MARTIN LUTHER KING, JR., ERIC DID TRY TO HELP MANY ALONG THE WAY, AND WE'RE ALL GRATEFUL FOR THE CONTRIBUTIONS HE MADE TO IMPROVE THE LIVES OF EACH OF US.
ERIC, MY BROTHER, WE WILL MISS YOU!